previous page
8/6/17
7/6/17
19/5/17
The White Helmets: Going Out On A High After 90 Years
Fans of the Royal Signals Motorcycle Display team have until the autumn to watch them before they disappear for good.
'The White Helmets' have opened their season with a performance for family and friends at Blandford Camp in Dorset.
However, time is running out for fans - the axe has fallen on the White Helmets – meaning this is their final season.
Some have considered that the show isn't a reflection of the modern work of the Royal Signals.
The unit was formed from dispatch riders, who ferried vital messages around on battlefields - first on horseback, and then on two wheels.
Their stunts have become legendary: a popular recruiting tool for the British Army, and a chance for signallers to do something very different for a couple of years.
This season will be the last for the Royal Signals riders as they focus on core skills with particular emphasis on digital and cyber operations.
The three-year posting involved performing at shows every weekend from May to October.
http://www.bfbs.com/radio/articles/12698
27/4/17
Second World War veteran to be presented with new medals at RAF Northolt following theft
A World War II Spitfire engineer will be proudly re-presented with his medals today thanks to the work of an RAF Association befriender.
RAF Northolt will be the venue for a special ceremony for Ted Rexter-Baker.
The 94 year-old, who kept the Spitfires of 72 Squadron flying during the war, had been awarded the Africa Star, the Africa Clasp, the Defence Medal and the 1935-1945 Star, but they were all stolen.
Since November 2016, Ted has been visited by Air Vice-Marshal Gary Waterfall as part of the RAF Association's nationwide befriending scheme.
The scheme pairs RAF veterans with volunteers from their community. Befrienders visit regularly to chat, keep an eye out for the veteran's welfare, talk about life in the RAF and to make sure their contribution is not forgotten.
"It was clear to me from the start of my relationship with Ted, that the loss of his medals had taken a part of him with them," Gary said.
"It was the least I could do to help him try to get them replaced.
"This ceremony to re-present them to him will be very special – a proud moment for him and for his friends and relations who will be there too.
"It is very fitting to hold it at RAF Northolt too, given its historical association with Spitfires. I'm looking forward to chatting about the medals with Ted when I next visit him at home. "
During his regular befriending visits, Gary discovered much of Ted's service history.
Ted had joined the RAF in September 1938 as a boy apprentice at RAF Halton.
After graduation he was posted to RAF Sealand before moving on to become a Spitfire engineer with 84 Squadron – being posted as far as Tunisia.
He served for more than 10 years and left from RAF Hornchurch, having become a Senior Technician. He now lives in north London.
With more than half of the UK Armed Forces veteran population aged 75 or over, relationship/isolation issues affect approximately 170,000 RAF veterans, with 85,000 of them specifically experiencing loneliness.
Rory O'Connor, Director of Welfare and Policy at the Royal Air Forces Association, said:
"Loneliness is a critical issue to the Royal Air Forces Association, and this service will ensure that more is done across the board to support our service men and women.
"The befriending service is an important initiative which provides invaluable welfare support for the 1.5 million strong RAF family.
"If you or someone you may know could benefit from befriending, we'd encourage you to get in touch with us as no veteran should ever feel lonely or isolated.
"A veteran's service should be shared, celebrated, and never forgotten."
Those who could benefit from this scheme can call 0800 0182 361 or visitwww.rafa.org.uk/befriending
17/4/17
It is more than 50 years since there was an RAF station at Jurby, but its legacy has made the parish what it is today.
Walter Fayle (Sandra Kerrison's (nee Quaye) uncle) of the RAF Police on the right of the picture, pictured in front of the Guard Room, RAF Jurby early 1940s.
Without the RAF, Jurby would have a tiny population, certainly not large enough to support a school, shop, parish hall, industrial estate, motor museum, motor sports and medical centre, as it does today.
The Friends of Jurby Church are planning an exhibition about RAF Jurby, to be shown in the church from August 17 - October 15, and they are asking people to share their memories.
Secretary, Sandra Kerrison said: 'Although the war years and the buildings are quite well documented, we are especially looking for personal photos and stories relating to RAF Jurby during the lifetime of the station from 1939 to 1963. Anything relating to RAF Jurby is of interest. Many of the people who lived in Jurby will have stories to tell as the RAF station was such a big part of life in the parish'.
In the 1930s, Jurby was a dying parish. The depression in agriculture resulted in its population falling to fewer than 400 as people left to find work.
With war looming, the Air Ministry considered the flat low-lying farmlands to be ideal for building an aerodrome and a bombing training station. RAF Jurby opened in 1939, just after the outbreak of war as No. 5 Air Observer School. Two months later it was renamed No. 5 Bombing and Gunnery School. In the later war years it became No. 5 Air Navigation and Bombing School.
By the end of the war some 10,000 people had been trained at RAF Jurby and RAF Andreas. Hundreds more were employed in the building of the aerodrome and in staffing what was, in effect, a self-contained village with its own cinema, church, shop and messes. There was employment not just for the people of Jurby and the north but from across the island. By 1951 the population had increased to over 900.
The RAF station elevated Jurby to a new status, with visits by Air Commodores, members of the royal family and the Lieutenant Governor. Farmers became prosperous as they cultivated more land to meet the increased demand. Station bands attended Tynwald Day and other civic events as well as playing at local dances. Many local women married men from the station.
At the end of the war, RAF Jurby was an Air Navigation School and from 1946-47 an Air Gunnery School. From 1947-1949 it was under 'Care and Maintenance' and was re-opened in 1950 as an Initial Training School to provide basic ground training to aircrew recruits.
From 1953 until the station closed in 1963 it was an Officer Cadet Training Unit when children from the station attended local schools. This is the period that many people today will remember.
Scans of photos can be emailed to arkerrison@gmail.com. For those in the Isle of Man photos etc can be collected for scanning and returned. For all enquiries contact Sandra Kerrison on 898003 or email kerrison@iom.com
http://www.iomtoday.co.im/article.cfm?id=32878&headline=Exhibition%20planned%20to%20look%20back%20at%20RAF%20Jurby&sectionIs=news&searchyear=2017
30/1/17
Her Majesty The Queen, accompanied by The Duke of Edinburgh, will attend a Service of Dedication on Horse Guards Parade before formally unveiling the new Iraq Afghanistan Memorial on Victoria Embankment Gardens, London, on Thursday, 9th March.
The Iraq Afghanistan Memorial Memorial honours all UK Service personnel and civilians who took part in conflicts in the Gulf region, Iraq and Afghanistan between 1990 and 2015.
The Prince of Wales and The Duchess of Cornwall, The Duke and Duchess of Cambridge, Prince Harry, The Duke of York, The Earl and Countess of Wessex, The Princess Royal and Admiral Sir Tim Laurence, The Duke and Duchess of Gloucester, The Duke of Kent and Princess Alexandra will also attend the Service of Dedication, together with 2,500 invited guests.
Guests at the Service of Dedication will include current Service personnel, veterans, representatives of departments and bodies including the Foreign and Commonwealth Office and the National Health Service, and representatives of various charities and aid organisations.
Following the Service of Dedication, The Queen and The Duke of Edinburgh will travel to Victoria Embankment Gardens, where Her Majesty will unveil the Iraq Afghanistan Memorial in the presence of the Memorial Trustees, together with individuals who served in Iraq and Afghanistan and their families.
Members of the Royal Family, led by The Prince of Wales and The Duchess of Cornwall, will then attend a reception on Horse Guards Parade for those who attended the Service of Dedication.
Further information about the Iraq Afghanistan Memorial and the Service of Dedication can be found at www.gov.uk/government/topical-events/iraq-afghanistan-memorial.
25/12/16
Rare 1967 BSA RAF Police motorbike goes under the hammer
A very rare 1967 BSA motorcycle, thought to be just one of three left in the world, is going under the hammer.

The motorbike, which was used by the RAF Police, is estimated to be worth £5,000 - 6,000, and is marked with air force emblems.
The bike will be sold at the Charterhouse auction of classic motorcycles on Sunday February 5.
"This ex-RAF Police motorcycle is believed to be just one of three known survivors as the vast majority of these bikes have been civilianised or scrapped over the past 50 years," said valuer Matthew Whitney.
"It certainly makes a different alternative to the civilian Police force Velocette LE which were affectionately known as Noddy bikes."
Made by British manufacturer Birmingham Small Arms Company, the 1967 BSA B40 is fitted with a 350cc engineand has been lovingly restored.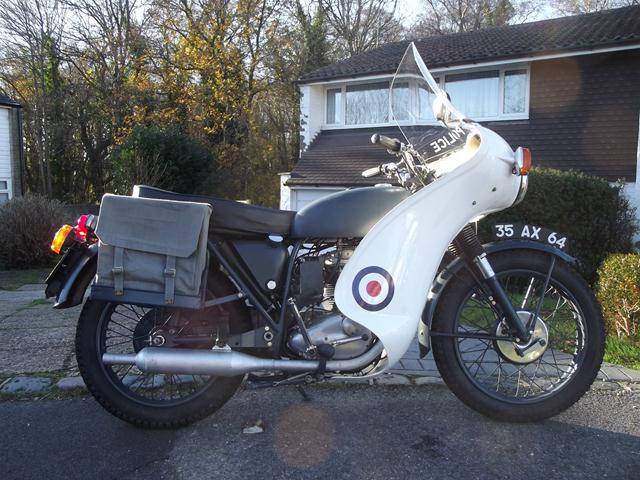 At its peak, BSA, who also owned Triumph, was the largest motorcycle producer in the world.
It was bought as a retirement project by the owner and features its correct and rare original fairing, blue light, higher handle bars and RAF blue saddlebags, but sadly little is known its history in the RAF.
During its current ownership, it was sympathetically restored and has been much admired at classic motorcycle shows.

However, the owner prefers to ride his modern Kawasaki with its electric start and has decided to sell the bike.
Charterhouse is now accepting further entries for this specialist auction of classic and vintage motorcycles on Sunday February 5 which is held in conjunction with the hugely popular Bristol Classic Motorcycle Show at The Royal Bath & West Showground, Shepton Mallet.
Charterhouse is also accepting entries of classic and vintage cars for the following week also at The Royal Bath & West Showground.
2/11/16
RAF Waddington's runway ready for take-off after £35m re-build
Ready for take off Comments (0)RAF Waddington's runway is now fully open after a £35 million re-build.
It will extend its operational life by at least another 25 years.
Work began in July 2014 and the original target date was November 2015 but the work meant the 2015 Waddington International Air Show, which would have attracted 140,000 people, was cancelled and subsequently axed for good, over security fears.
However, the discovery of more than 1,000 historic underground cables and pipes at the base and waterlogged earth is why the project was a year behind schedule.
Surveys had found most of the ground under the airfield was made up of limestone, but large areas of clay were found when the runway surface was removed.
This meant the new runway needed to be redesigned otherwise it would have sunk when built.
And Second World War practice bombs were discovered and removed during the project.
Waddington, home to Reaper drone operators and the E-3D Sentry, Sentinel R1 and Boeing RC-135V/W Rivet Joint intelligence and surveillance aircraft, will play an increasing role in the war against the self-styled Islamic State terrorists.
Planes have been flying from other bases during the work but now they have all come home to roost.
Throughout the refurbishment, the operational tempo and demand for RAF Waddington's intelligence gathering capabilities has remained extremely high with flying squadrons almost constantly deployed.
This will remain the case as RAF Waddington continues to play a critical role in the coalition air campaign to defeat the so-called Islamic State and elsewhere around the world.
RAF Waddington Station Commander, Group Captain Al Marshall said: "This has been a major and very challenging project, which has placed significant pressure on personnel and their families.
"Despite the challenges, we have managed to sustain operational output throughout the resurfacing period owing to the outstanding dedication and professionalism of RAF Waddington personnel and those who support us.
"It will give me great pleasure to see many personnel return home and to have our aircraft regularly flying in and out of RAF Waddington once again."
Conducted in several phases the old runway has been dug up, levelled and resurfaced.
The upgrade which significantly changed the profile of the existing runway includes the provision of a new section of airside perimeter road, new visual airfield approach aids, aeronautical lighting and signs, all of which improves the overall safety of the airfield and operations.
22/11/16
MPs back new 'Walter Mitty' medals law to criminalise 'military imposters'

Medals worn by Simon Buckden, a genuine former soldier who was jailed for for defrauding people out of thousands of pounds by pretending to be a decorated war veteran with cancer
A new "Walter Mitty" law should be introduced to make it a crime, punishable by up to six months in jail, for anyone to pose as a military veteran by wearing medals they have not earned themselves, MPs say.
The Commons Defence Committee warned that the lack of any legal deterrent to imposters wearing medals awarded for service and bravery is not only an "insult" to genuine recipients but could threaten public trust in the military honours system itself.
Although there are no official figures to show the extent of the practice, because it is not currently a crime, one survey found that almost two thirds of members of the forces community had personally come across people wearing medals or insignia awarded to someone else.
Anthony Church, a former town crier who resigned abruptly after admitting his claims of military heroics were untrue
The committee gave its backing to a private member's bill tabled by the Conservative MP Gareth Johnson, creating a new criminal offence similar to bans in place in other countries, carrying a maximum penalty of six months or a fine of £5,000.
The proposal is due to be debated by the Commons on Friday.
A Defence Committee report into the proposal details how it used to be a crime to dress up as a member of the Armed Forces or wear medals fraudulently, under Victorian legislation updated by Winston Churchill as Secretary of War in 1919.
But the ban, similar to that preventing people impersonating police officers, was discontinued in 2009 as part of a wider legislative tidying-up exercise relating to the Armed Forces.
Roger Day, who posed as a retired member of the SAS wearing 17 medals at a Remembrance parade in Warwickshire in 2009. Charges of military deception against him were dropped as the law changed a fortnight before the march.
Ministry of Defence officials told the committee that the reasoning had been that it is potentially possible to prosecute military imposters for other offences, such as fraud.
They added that the law as it previously stood did not include any exceptions for fancy dress or theatrical productions.
In its report, entitled "Exposing Walter Mitty" - after the character in the James Thurber short story who lives in a fantasy world - the committee insists that despite a lack of figures, anecdotal evidence suggests such deception is a "continuing" problem.
Last year Anthony Church who served as town crier in Oxford and a string of other towns nearby resigned abruptly after admitting his claims to be a former regimental Sergeant Major in the Coldstream Guards who had been awarded the British Empire Medal, Imperial Service Medal and an MBE were all fictitious.
One internet vigilante group, known as the "Walter Mitty Hunters Club", claims to have exposed more than 200 imposters. On its Facebook group it also exposes people it says have been collecting money for bogus military charities.
Crucially, Mr Johnson's bill would allow close family members of servicemen or women who have died or been injured to wear their decorations at special commemorations, effectively on their behalf, but within strict limits.
"Both the sponsor of the Bill and the other witnesses took the view that the unauthorised and deceitful use of military decorations and medals is a harm that is worthy of specific criminal prohibition," the report concludes.
"We support their arguments that such behaviour is not only insulting to the rightful recipients of these awards, but also damages the integrity of the military honours system and the bond of trust and respect between the public and the Armed Forces.
"The enactment of criminal prohibitions should always merit the most serious consideration.
"We conclude that there is a tangible and identifiable harm created by military imposters against members of society who should rightly be held in its highest esteem.
"Therefore, we believe that specific prohibitions to mitigate this harm are justified."